WATCH: Taylor Swift makes surprise appearance at Ed Sheeran concert
JUST ADDED: 5 Seconds of Summer will be rocking the stage at this year's iHeartRadio Music Festival Village in Las Vegas! The band sat down with Ryan Seacrest to break the news. Click here to buy your tickets now, before they sell out!
Listen to Taylor Swift on iHeartRadio | Listen to Ed Sheeran on iHeartRadio
Ed Sheeran is thanking country superstar Taylor Swift for the months they spent on the road together on her North American "Red" tour.
The British singer-songwriter invited Taylor onstage during his last night at Madison Square Garden Friday night. Ed gave the star a heartfelt thank-you for the experience, before introducing her as his "good friend."
Taylor came out wearing a t-shirt reading "I Love Ed," and two performed their duet "Everything Has Changed." Ed wore his own "I Love NY" t-shirt, which was a fitting choice for debuting another new song called "New York."
A new album from Ed is expected out in early 2014.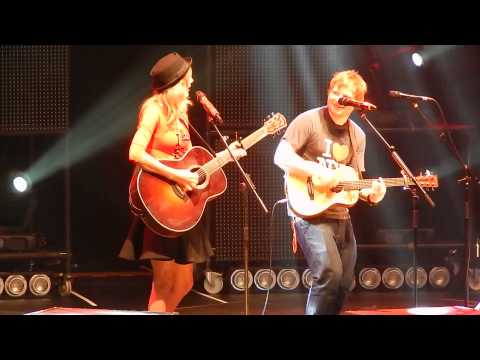 Photo Credit Getty Images